Lee Haney Eight time Mr. Olympia, Fitness Games and Katrina Julia with FIT Life Creation on the Buckhead Business Show
Lee Haney
Lee Haney Enterprises
Lee Haney has more than 30 years of fitness and nutrition experience with eight consecutive World Bodybuilding Championships to his credit. Over the years, Lee has trained professional athletes and celebrities, serving as a consultant for some of the best nutritional supplement companies in the world and was appointed Chairman of the President's Council on Physical Fitness and Sports.
BECOMING MR. OLYMPIA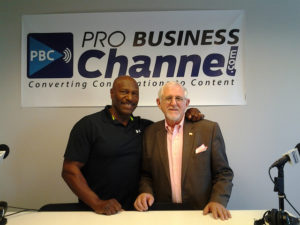 In 1991, I Became The First Eight Time Consecutive World Body Building Champion To Win The Covenant MR. OLYMPIA Crown. The Road Getting There Wasn't Easy. It Took Hard Work, Delayed Gratification, And Above All A Lot Of Prayer.
Over the years I've had the opportunity to be involved as a consultant with some of the best nutritional supplement companies in the world. Those associations, along with 30+ years of on-the-job experience, have given me a wealth of knowledge – knowledge that can be used in helping you reach your fitness goals. Whether the goal is to lower body fat, add muscle mass, or wanting to tone – I've been there, done that!
Why are nutritional supplements so important? Nutritional supplements assist in enhancing valuable nutrients that our bodies need. Nutrients that are lacking in today's "hurry up and grow it" society. With that being said, it gives me great pleasure to introduce the Lee Haney's Nutritional Supplement System, formulated with years of knowledge and know how.
ACCOMPLISHMENTS:
Even at age 46, Lee Haney's Herculean physique mirrors his equally impressive credentials. As the unprecedented winner of eight consecutive Mr. Olympia titles, besting Arnold Schwarzenegger's seven-file record, Lee is an icon in the fitness industry. Lee was the 1st 8 time Mr. Olympia and the youngest to retire at the age of 31.
Now retired from his historic body building career, Lee's focus has turned to educating others. Within the sports and fitness arena, Lee is revered among his peers for his comprehensive personal training techniques as well as his contributions to the integrity of exercise in general. Professional athletes and coaches look to Lee for goal-specific sports training and nutrition programs during the off-season and for injury rehabilitation.
Evander Holyfield sought out Lee to run his training programs before fighting in two heavyweight title defenses.
Lee also joined forces with Philadelphia 76er's Shawn Bradley in order to strengthen and build up the hoopster's post-injury.
Lee worked with Gary Sheffield to improve his overall performance and transform him from a shortstop into a powerful right fielder.
How does an athlete choose Lee Haney? "I read about him and it was a fantasy of mine to work out with Lee Haney" recalls Sheffield; one of Haney's many admirers.
Lee's popularity and respected position within his field have provided him with a lengthy list of awards and recognition including Proclamations from three cities and distinguished acknowledgments from The President's Council on Physical Fitness, The United States Sports Academy and The International Federation of Body Building.
To Lee, Success is more about fulfillment than trophies or titles, so in 1994, he and his wife purchased a forty acre farm near their home and created the Haney Harvest House, a non-profit retreat facility for children of all races, creeds, and nationalities. "I wanted to be able to give something back. I've been so fortunate to have a lot of good things come my way, and it all comes from values I learned from growing up. If we don't take time now to give some of that back to this generation then when will we?"
Join Lee as he hosts the TOTALEE FIT Radio Show
TOTALEE FIT Radio showcases individuals who were once unhealthy but have now committed to living the TOTALEE FIT Lifestyle. In addition, Lee brings valuable fitness and weight management information to you.
Lee's radio show gives you an insiders look at the fitness business and helps you learn how to be successful with an International Association of Fitness Sciences (I.A.F.S.) certification. This certification was created by Lee Haney and contains all his knowledge and experience of being a professional bodybuilder and fitness expert. Tune in for interviews with IAFS trainers and clients, updates for Haney's fans as to his live appearances and fitne
Topics to Discuss:
LEE HANEY GAMES EVENT:
GEORGIA INTERNATIONAL CONVENTION CENTER
FRIDAY OCT 27:
MENS NPC PRE-JUDGING
USPA Power Lifting
SATURDAY OCT 28:
WOMENS NPC PRE-JUDGING
LEE HANEY GAMES STRONGMAN
USPA POWERLIFTING
USAA ARMWRESTLING
GARAGE GAMES – WORLD WIDE WOD "HEROES VS VILLAINS
NICOLE DUNCAN ULTIMATE CHEER & DANCE COMPETITION
THE LYFE FIT KID FOOTBALL COMBINE
EVENT DESCRIPTION
3rd Annual Lee Haney 2017 Physique & Fitness Games, where the best physiques and athletes will come together for the greatest competition of the year!
Atlanta, being recognized as an international melting pot has been a great location for many sporting events. This event is a NPC Bodybuilding National Qualifier, NAS Strongman National Qualifier, USPA Powerlifting National Qualifier, Fitkid Fitness Combine, and many other national and regional qualifying events for both male and female adults and adolescents.
This year will host the 2nd Lee Haney Games Health & Fitness Marketplace. The Lee Haney Games Health & Fitness Marketplace is a place for vendors to build or expand their brand awareness with attending spectators and athletes. Vendors are encouraged to display, sample, and sell their products or services to the event attendees. Becoming a part the Lee Haney Games Health & Fitness Market will give you both the exposure and opportunity of partnering with the Lee Haney Games as the event grows and become a recognized brand in both Nationally and in the Atlanta area.
Web Site / Social Media Links:
https://www.instagram.com/lee_haney_games
https://www.facebook.com/LeeHaneyGames
---
Katrina Julia
FIT Life Creation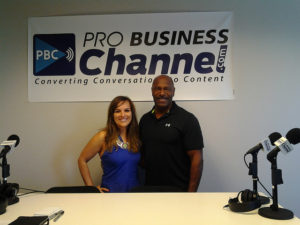 Katrina Julia "I struggled with 20-40 lbs. of excess weight, 150%+ of excess spending while generating others 7-8 figures of wealth, and losing myself." ​ With perseverance, I transformed from the inside out creating a life + a business I love while inspiring others to do the same + giving back.
CEO I PHILANTHROPIST
SPEAKER. AUTHOR. ATHLETE.
MBA. CPA. CFE. CIA.
NASM FITNESS & SPORTS NUTRITION.
NPC COMPETITOR.
TRANSFORMATION COACH.
HEALTH. WEALTH. BUSINESS.
LIFESTYLE BRAND & NON-PROFIT CREATOR.
RESULTS GENERATOR: 7+ FIGURES.
FAVORITE SCRIPTURE: 1 JOHN 4:18
SUCCESSES:
SELECTED FROM 1.2 MILLION FOR THE APPRENTICE
PROJECT MANAGEMENT 3 BUSINESSES >$500MM
$10 MILLION BOTTOM LINE IMPACTS
25X SALES GROWTH IN ONE YEAR
START UP DEVELOPMENT TO SIX FIGURES
EXPERIENCE + CONSULTING >10 INDUSTRIES
TRAINING >50 LOCATIONS + >$5MM IMPACT
EVENTS + RETREATS FOR UP TO >10,000 PEOPLE
#1 IN RETAIL AND BANKING IN SALES
COACHING > 200 TO TRANSFORM HEALTH
COACHING > 5,000 TO TRANSFORM WEALTH
LEADING TEAMS OF 25+
​
AUTHOR OF:
DIGGING DEEPER WITH DATA ANALYSIS (2014)
GROWING WAISTLINE OF OBESITY (2003)
EXPERIENCES:
TRANSFORMATION + INSPIRATION PROGRAMS
FITNESS, FASHION, & CHARITABLE EVENTS
INTEGRATING INTO NON-PROFITS
COMBINING PROGRAMS WITH SPEAKING
PREVENTATIVE CARE PROGRAMS
CORPORATE WELLNESS & WORKOUTS
HEALTH & WEALTH & BUSINESS COACHING
BUSINESS WORKSHOPS & ACADEMIES
ACCOUNTING & FINANCE EDUCATION
BOTTOM LINE MAXIMIZER DATA ANALYSIS
​
REVIEWS
"BEST SPEAKER AT CONFERENCE"- ACFE PARTICIPANT
"SO ENGAGING AND HANDS ON" – WSSC EVENT
"DYNAMIC AND ENERGETIC" AICPA PARTICIPANT
Topics to Discuss:
Story
Lifestyle Transformation
Mission
Freebies for Audience
14 Day Challenge
Web Site / Social Media Links:
www.fitlifecreation.com
https://www.instagram.com/fitlifecreation
https://www.facebook.com/FitLifeCreation
---
The Buckhead Business Show Spotlights Industry Leaders in Buckhead and Atlanta! Brought to you in part by The Buckhead Business Association and Broadcast LIVE from the Pro Business Channel Studios.
Show Hosts: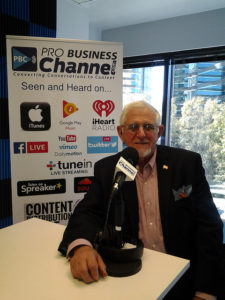 ---


---
For more info about the BBA visit:
www.BuckheadBusiness.org
To nominate or submit a guest request visit:
www.BuckheadBusinessShow.com
To view photos from this show, visit:
www.ProBusinessPictures.com
Recent Photos From The Buckhead Business Show

Flickr Album Gallery Powered By:

WP Frank
---
Also published on Medium.