Podcast: Play in new window | Download | Embed
Subscribe: Apple Podcasts | Android | Email | Google Podcasts | Stitcher | TuneIn | Spotify | RSS | More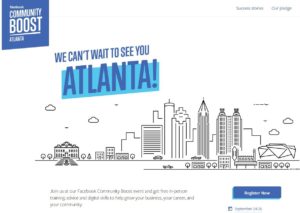 Facebook Community Boost Interview with Lori Ann Pope on Georgia Business Radio
Rich Casanova with the Pro Business Channel on site in our own hometown of Atlanta for Georgia Business Radio. We're at a phenomenal event here today with Facebook and their community boost events, bringing the communities together city-by-city. This is a fascinating concept and tour, were excited and proud to be part of it, right now here joining me at the event live is Lori Ann Pope, Facebook's global small business event marketing lead.
Rich Casanova: Before we start talking about the event and your role, actually before we started recording you immediately had a flashback to your radio days, tell me a little bit about that.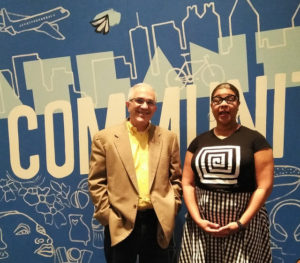 Lori Ann Pope: So I started radio in college. I was at Brown University and worked at WBRU FM which was an FM station but a workshop for college students. And so that really instilled my love of radio, music in particular, but I also did news and also exposed me to all sorts of music. I did everything from R&B to Rock to Jazz.
Rich: [00:00:53] Yeah once it gets in your blood right you're hooked, right? So once you once you move on past this Facebook gig we talk about bringing you back in radio one day maybe right?  So you're about three and a half years into this. So what's your role now Facebook?
Lori Ann: [00:01:09] So my role at Facebook has always been the same for the last three years. I'm the global small business event marketing lead and basically what that means is that I lead the team that produces and brings us to life around the world. So we're here in the US but we've also launched in Amea, Europe the Middle East and Africa and also in Asia, we actually launched in Jakarta today.
Rich: [00:01:31] Oh, wow, that's exciting and Atlanta, you know, how often does that happen?  We had a conversation earlier with Katherine Shappley from Facebook talking about what this 50 city tour involves. So, it's 36 cities so far right?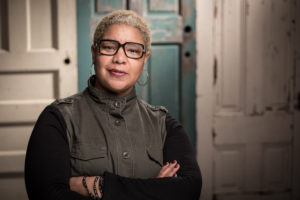 Lori Ann: [00:01:49] It's actually more than that. So Facebook Community boost is really under sort of a larger umbrella of what we call our economic develop initiatives, which is basically how do we help communities boost economies etc. And so it's actually not a new program that we've rolled out. There's really been some version of this for the last five years. I believe you talked to Bess Yount. I call her the Godmother of Facebook Community Boost. It may have started out as Facebook fit and then morphed. So we've stuck with Boost for a long time, so it's either been boost your business or Facebook Community Boost. The whole point has always been connecting with small businesses and their employees to give them the skills and digital tools they need to basically grow their businesses online. I'm passionate about this so many of our small businesses are not engaged in the digital economy.
Rich: [00:02:43] I definitely feel your passion and a shout-out to Bess. I don't know if they still do shout outs or not. So now talk to us about the mission, the idea and the backstory of the community boost events you're doing not only here in the US but around the world and this event in particular, The experiences and some of the takeaways from this three-day event from two different perspectives.  One, the instructors and experts and also from the attendees, what's the exchange here?
Lori Ann: [00:03:12] So when we looked at building their curriculum, it was really filling that gap in what do people really want to know and what don't they know? So a lot of it is one just basics, you know, digital skills and education and then it moves onto introduction to Facebook also Instagram, you may not know that Facebook owns Instagram.
Rich: [00:03:34] There's a rumor about that. That's a pretty amazing story. I'd love to have that conversation one day. It's phenomenal the partnership right?
Lori Ann: [00:03:41] It's great. So one of the things people associate with Instagram is it's great for creatives. So one of the classes is story school and it's amazing in that we show small businesses you don't have to have a fancy agency to do your creative. You can basically do it with your mobile phone a tripod and a few other tools and you can have creatives to also showcase your products and services.
Rich: [00:04:03] It is amazing the technology that we have in the the day and time we're living in and that as a small business you really need to jump on the bandwagon and take advantage of those opportunities, right? So, what's new or what's next in this endeavor?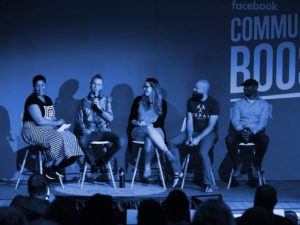 Lori Ann: [00:04:18] As far as Facebook Community Boost, I have to tell you every city is different. So being here in Georgia as far as support from the community attendance it's really been amazing over these three days, but when we got the support of the city and the mayor's office and having them say we'd love for you to come to train people in our city, that's amazing. The other thing is it just makes sense to be in Georgia. Georgia is the number 3 state for ease of starting a business. And so we come to the people who are trying to do it and so it made complete sense to be here.
Rich: [00:04:58] I would definitely concur, we had the commissioner for economic development for the state of Georgia in our studio talking about the same subject matter. Each state has their claim to fame, but we're certainly very Pro Business friendly. So I appreciate  your time Lori Ann Pope with Facebook at the community boost event here in Atlanta. I know you have a lot on your docket today, but day three is probably a little bit more relaxed than the earlier days.
Lori Ann: [00:05:23] I have to say, day three we thought was going to be relaxed but when I arrived this morning there was a line all the way down the hall which just made me smile and we look forward to new businesses are coming each day. So starting from day one I think people got the word out there's this great event you're a small business you really have to come.  And so that's just been amazing to see.
Rich: [00:05:45] I saw the line. I should have taken a picture, it was literally out the door almost to the parking lot, so well done. Again, thanks for your time, so how would our listeners find out about the upcoming events or more engagement?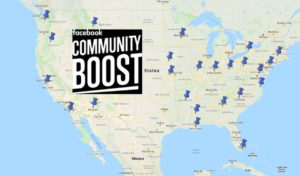 Lori Ann: [00:05:58] You can go straight to Facebook Community Boost it list all the cities where we're going next and also all of the attendees here in Atlanta have the chance to join the Facebook community group. So basically we keep the community engaged it allows people to network, share ideas and also know about upcoming training. Facebook has a national partnership with the Urban League. The Urban League is very active in Atlanta, and so they will continue training, offer what the community needs based off what they started here today.  So we're very excited about that.
The other thing I want to note is we have a great program within Facebook Community Boost called #SheMeansBusiness and so female entrepreneurs, the bulk of our attendees are women business owners, so tonight we're having this event at the Switchyards. Atlanta is also a mecca for the film and entertainment industry. It's been in the last year pretty booming for Atlanta. So we have this amazing event called "Action to Seen" about women and their visibility both behind the camera and in front of it in the film and entertainment industry.
So it's going to be an amazing event. We've got Michelle Sneed who is the president of production for Tyler Perry Studios. Huge. We're excited about that and then a panel of women directors, writers, actors who will talk about their experiences and moving forward especially out of the LA Market?  That's huge!
Rich: [00:07:29] Well said, we're going to definitely leverage this content you just shared with us. You mentioned women in business, I just heard a recent interview with Kevin O'Leary from Shark Tank "Mr. Wonderful" he said 100 percent of his most successful businesses have been women based businesses.
Lori Ann: [00:07:51] I'm not surprised by that. I mean when you talk to a lot of the women or even the panel we have that kicked off on Monday a lot of them had a seed of an idea or it started out as a project.  Serriah Johnson from Curl Definition a small business here in Atlanta started in her kitchen just making products for hair because she was passionate about having natural products for her hair. It's now grown into a big business, so I think women have that seed of an idea, they start with it and then once they figure out how to pivot to a business, then great success.
Rich: [00:08:25] We all know the first female billionaire on the Forbes list was a female start-up entrepreneur here in Atlanta. So we look forward to conversations with some of the attendees participating in the event, some of the experts in the space of Facebook and Instagram, Again, Rich Casanova looking forward to our next conversation. Meanwhile, Lori Ann Pope from Facebook Community Boost thank you again and tune in to the next episode of Georgia Business Radio across the Pro Business Channel syndicated platforms.
---
Georgia Business Radio Interviewing industry and thought leaders with compelling stories. Relevant content on current business trends live from the Pro Business Channel studios in Atlanta. In addition to the live broadcast, GBR content is in distribution across multiple syndicated platforms with more than 500,000 downloads.
Show Host:
Rich Casanova, Chief Visionary Officer
Pro Business Channel
Rich Casanova began his broadcasting career in California's central valley at KSKS-FM. While in California he also ran a successful entertainment company whose staff and crew entertained over 100,000 people. After moving to Atlanta and selling his entertainment company, Casanova ventured into publishing as the Publisher and Franchise Owner of Coffee News, headquartered in Bangor, ME.
Later became the Founder and CCO, Chief Connection Officer, of an online platform where local business professionals register to receive a free list of the top 100 networking events in metro Atlanta.
With a name like Casanova and his gregarious personality, Rich was a natural as a music radio DJ. "I got the radio bug early in my career and often thought how great it would be if there was an opportunity to participate in a talk radio format with a pro-business perspective interviewing thought leaders from the local business community." Thus was born the Pro Business Channel where Rich is the CoFounder and Chief Visionary Officer.
https://www.linkedin.com/in/richcasanova
https://twitter.com/RichCasanovaCom
Check out more episodes  visit:  www.GeorgiaBusinessRadio.com
Submit a guest request visit:  www.OnAirGuest.com
View guest photos from this show visit:  www.ProBusinessPictures.com
Recent Photos From Georgia Business Radio

Flickr Album Gallery Powered By:
WP Frank
---
Also published on Medium.