Create! Graphix Owner Ryan Bennett Interview on Driving Business Faster
Ryan Bennett, Owner
Create! Graphix
CREATE! GRAPHIX – EST. 2017
Yes Create! Graphix was started in just 2017, but don't let that fool you. Owner and Operator, Ryan Bennett, has been in the graphics industry for more than ten years, and another ten years of experience in corporate sales and customer service. In 2005, Ryan began working in the graphics industry for a large screen printing company as a sales representative selling apparel and jewelry to buyers across the world. This sparked an interest in the industry, and he later started a small company selling t-shirts, stickers, and other band merchandise to local musicians. After a short span of doing this on his own, Ryan went on to work for a good friend who took him under his wing and showed him the ropes in the large format printing industry.
Over the next 8 ½ years, Ryan continued to learn what the industry had to offer him, and build relationships with many good and long lasting clients who have also become close friends. After many years of being the production manager of this company, he felt that he wasn't growing in his position and a felt a need for change,so he left the company to pursue another field in the graphics industry.
Throughout the next several months of his new business venture, Ryan's personal client base continued to grow, so he decided to take a leap of faith, and create a graphics company of his own. With more than 10 years of quality experience, he developed a vision of how he would run his own business. Ryan brought this vision to life, and launched Create! Graphix. With high quality standards, one-on-one customer service skills, and personal communication with his clients and projects, Ryan has created a new company in the graphics industry to provide a premium experience from start to finish.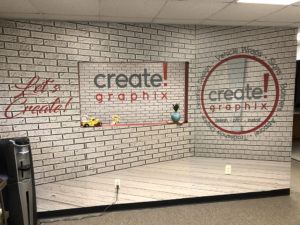 At Create! Graphix, we strive on building relationships. We don't just want your one order to send you on your way. We want to get to know you, your company background, and what your company's vision is. We want to work with you on all of your graphics projects, and strive to be your go-to company for and and all of your needs.
Create! Graphix is located in Kennesaw, GA between Barrett Parkway and Cobb Parkway. Our location is currently open by appointment only, so please arrange your consultation, order pickup, or vehicle drop-off prior to stopping by.
Topics to Discuss:
Vehicle graphics
Racing industry including pro stock
Corporate graphics
Starting small business – History and Goals
Web Site / Social Media Links:
www.creategraphix.net
Guest Linkedin Profile:  https://www.linkedin.com/in/ryan-bennett-40a33826
---
Driving Business Faster brought to by Azul Motorsports, where you become the passenger or driver in a real race car! Broadcasting LIVE from the Pro Business Channel studios in Atlanta. Tune in live and listen to recent episodes or possibly be a guest along with Professional Race Car Driver and Talk Show Host Chris Grigalunas!
Connect with the show sponsor visit:
www.AzulMotorsports.com
Listen to more broadcasts visit:
www.DrivingBusinessFaster.com
Submit a Show Guest Request visit:
www.meetme.so/DrivingBusinessFaster
View show photos visit:
www.ProBusinessPictures.com
Recent Photos From Driving Business Faster

Flickr Album Gallery Powered By:
WP Frank
---
Also published on Medium.