Podcast: Play in new window | Download | Embed
Subscribe: Apple Podcasts | Android | Email | Google Podcasts | Stitcher | TuneIn | Spotify | RSS | More
Chef Jamie Adams with il Giallo Osteria and Bar on Food and Beverage Radio
Chef Jamie Adams 
il Giallo Osteria & Bar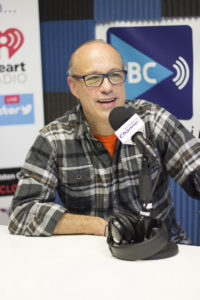 The youngest of five children born in Atlanta, Jamie Adams was intrigued by every aspect of Italian culture – from its cars to its language; from its people to its food. His passion for Italian cuisine was fueled by his mother, a native of New Orleans and fabulous cook in her own right. To this day, Jamie's fondest memories are of cooking in the kitchen with his mother, or at relatives' homes and kitchens in New Orleans, where his family visited regularly.
While studying music, biology, and English literature at Georgia State University, Adams simultaneously worked for The Mad Italian Restaurant in Atlanta. It was here that he realized his profound appetite for the restaurant business: the desire to immerse himself into Italian cuisine and great hospitality began to smolder.
Fanning these flames was the fact that his siblings, who had traveled to Italy, came home with stories of meals they had enjoyed in quaint Italian towns. These stories and his love for Italian cuisine led him to create his own Italian adventure. "In 1985, I found myself in the Mestre train station with a 200 Lire Gettone in my hand, hoping against hope that someone on the other end could speak English," reflects Adams. "Thus began an almost five year stint that was supposed to only be one. I went on to find and work in many of the places that I had heard so many stories about and I made friendships and connections that forever changed the course of my life," he recalls.
Upon returning to Atlanta, Adams received several offers to cook in the city's top Italian kitchens, but immediately knew that working at Pricci (then Cappriccio), the Italian crown jewel of the Buckhead Life Restaurant Group, was the perfect setting for his talents. Adams impressed owner Pano Karatassos, by making several pasta dishes from scratch just like his time in Italy at several Michelin starred restaurants. He was given the title of Sous Chef and thus began a more than 20 year relationship with Pano and his prestigious restaurant group.
In 1993, the company took over Veni Vidi Vici and Adams was named Executive Chef. The restaurant was formerly owned by one of the gran dames of Italian cuisine, Marcela Hazan, coincidentally, one of Adams' most profound culinary influencers.
Adams left BLRG for a short while, when he opened the boutique restaurant, ENO in Midtown Atlanta. In addition to an economic downturn, during this time, Adams was as he refers to it, "the lucky recipient of Coronary Artery Bypass Grafts, fondly referred to as "Cabbage-CABG," also known as a quadruple bypass. After taking some time off to recuperate, as a compliment to the long-time, mutually respectful business relationship between Pano and Adams, the Chef was asked to rejoin the Veni Vidi Vici team.
While at Veni Vidi Vici, Adams realized that he and restaurant General Manager, Leonardo Moura, shared a mutual desire to create and run their own Italian restaurant. Adams and Moura shared their dream with Pano Karatassos, and it was decided that Veni Vidi Vici would close, enabling the pair to open their own restaurant. In creating il Giallo Osteria and Bar (meaning both yellow and mystery in Italian), the passion and experience Adams obtained in Italy will fuse together in this Coastal Italian restaurant in the upscale Sandy Springs neighborhood.
Adams has been a featured chef at The James Beard House in New York, competed in The Food Network's "Chopped," selected to participate in a TBS-TV "Super Chef Cook Off", and was highlighted on "Great Chefs of the South, and "The Best Thing I Ever Ate." In addition to building a loyal following and maintaining his great health as an avid cyclist, Chef Adams is exceptionally proud of his fundraising efforts for many organizations that are important to him, including Share Our Strength's No Kid Hungry and Moving in the Spirit, among others.
Brief Description of Product or Service:
Authentic Italian Restaurant in Sandy Springs
Topics to Discuss:
Background cooking in Italy
What we serve at il Giallo
New Catering Program
Web Site / Linkedin / Social Media Links:
www.ilgialloatl.com
Facebook – https://www.facebook.com/gialloatl
Twitter – https://twitter.com/ilgialloatl
Instagram – https://www.instagram.com/gialloatl
Linkedin:  https://www.linkedin.com/in/jamie-adams-77133a101
---

Food and Beverage Radio
Interviewing food and beverage industry leaders live from the Pro Business Channel studios in Atlanta.
Relevant content on current industry trends live from the Pro Business Channel studios in Atlanta. In addition to the live broadcast, content is distributed across multiple syndicated platforms with more than 500,000 downloads.
Show Host:
Rich Casanova, Chief Visionary Officer
Pro Business Channel
Rich Casanova began his broadcasting career in California's central valley at KSKS-FM. While in California he also ran a successful entertainment company whose staff and crew entertained over 100,000 people. After moving to Atlanta and selling his entertainment company, Casanova ventured into publishing as the Publisher and Franchise Owner of Coffee News, headquartered in Bangor, ME.
Later became the Founder and CCO, Chief Connection Officer, of an online platform where local business professionals register to receive a free list of the top 100 networking events in metro Atlanta.
With a name like Casanova and his gregarious personality, Rich was a natural as a music radio DJ. "I got the radio bug early in my career and often thought how great it would be if there was an opportunity to participate in a talk radio format with a pro-business perspective interviewing thought leaders from the local business community." Thus was born the Pro Business Channel where Rich is the CoFounder and Chief Visionary Officer.
http://www.ProBusinessChannel.com
https://www.linkedin.com/in/richcasanova
https://twitter.com/RichCasanovaCom
Check out more episodes at: http://www.FoodandBeverageRadio.com
Submit a guest request at: http://www.OnAirGuest.com
View guest photos at: http://www.ProBusinessPictures.com
Recent Photos From Food & Beverage Radio

Flickr Album Gallery Powered By:
WP Frank
---
Also published on Medium.