Podcast: Play in new window | Download | Embed
Subscribe: Apple Podcasts | Android | Email | Google Play | Stitcher | TuneIn | RSS | More
Law and Medicine Show – Ripple Effects of Personal Injury, Impacting Your Mental Health
Company or Product Name:
Medical Legal Consultants Of Greater Atlanta
Name and Title of Person Interviewed:
Dr David Wright, Mental Health Physician
Guest BIO:

Dr. Wright is a Board Certified Hypnotherapist & NLP Practitioner who specializes in Non-Pharmacologic, Psychoanalytic Methods of helping patients to achieve positive changes and breakthroughs. Dr. Wright is presently accepting new patients. Dr. Wright offers all prospective patients a free initial consultation. Dr. Wright believes that the Best Method of helping patients to achieve their goals is by gaining access to the Subconscious [Unconscious] Mind. It is there that the answers to lasting change reside. If working with the Conscious Mind (which is what most modern talk therapies employ) were the Best Method of Achieving Change, then more people would already be living the lives they've consistently desired.
Dr. David Wright achieved his MD in July of 2010, graduating Suma Cum Laude from Xavier University School of Medicine. His primary emphases in medical school were forensic psychiatry, addiction psychiatry (addiction medicine), and neurology. While attending medical school, Dr. Wright concurrently completed 2 Masters degrees back to back: an MBA, and an MHSA. After completing his MD and both Masters degrees, Dr. Wright continued his educational pursuits by completing a Certificate in Strategic Management in 2012 and a Certificate in Human Resources Management in 2013. Simultaneously, in 2012, Dr. Wright completed every research training program offered to physicians by the National Institutes of Health (NIH), including GCP (Good Clinical Practices), PHRP (Protection of Human Research Participants), and CRT (Clinical Research Training) Certifications. After graduating from medical school, Dr. Wright began working as a forensic consultant for PACT Atlanta, LLC, the largest psychiatric practice in the State Of Georgia.
Topics/Questions to Discuss:
Natural Approaches to Mental Health & Mental Wellness
Empowerment & Mental Health
Emotional & Spiritual Wellness
Depression, Causes and Solutions
Sleep Issues
Web Site and Social Media Links:
Medical Legal Consultants (MLC) of Greater Atlanta, LLC
Website: http://www.medicallegalconsultantsofgreateratlanta.com
Twitter: https://twitter.com/mlc_drwright
Facebook: https://www.facebook.com/profile.php?id=100011560413668
WordPress: https://medicallegalconsultantsofgreateratlanta.wordpress.com/
LinkedIn: MLC Of Greater Atlanta
Tumblr: mlcofga
---
Show Host: Adam Princenthal
Adam Princenthal is a founding member of Princenthal & May and leads the firm's personal injury department. With more than fifteen years of experience, Adam has recovered tens of millions of dollars in trial verdicts and settlements on behalf of victims and families who have suffered serious personal injury or the wrongful death of a loved one as the result of motor vehicle collisions, trucking accidents, defective products, dangerous premises, medical malpractice and other negligent behavior.
Raised in New York City, Adam travelled across the country to attend the University of California, Los Angeles (UCLA), where he obtained his bachelor's degree. He was then offered a full scholarship to attend law school at Georgia State University College of Law in Atlanta. While in law school, Adam served on the school's Law Review, competed in national competitions as a member of the school's Trial Lawyers Association, and won several awards and recognitions. He graduated Magna Cum Laude, receiving his Juris Doctorate in 1999. He then accepted a position with one of the biggest law firms in Atlanta, where he represented national and international corporations in complex business litigation. Adam soon realized, however, that his true passion was to represent real people, not large companies, and to fight for those who have been injured by others. Adam left the "big firm" and has since focused his practice on obtaining justice for victims of serious personal injury and wrongful death.
Adam is admitted to practice in the Georgia Supreme Court, the Georgia Court of Appeals, and all of the Superior and State Courts within the State of Georgia. He is also admitted to the Federal Bar and practices in the United States District Court for the Northern District of Georgia and he United States District Court for the Middle District of Georgia, as well as the United States Court of Appeals for the 11th Circuit. Adam is a member of the State Bar of Georgia, the Georgia Trial Lawyers Association, the American Association of Justice, the Million Dollar Advocates Forum and the Multi-Million Dollar Advocates Forum.
Adam lives in Marietta, in Cobb County, Georgia, with his wife Karen and their two children.
---
Law and Medicine Show!
Advocates for Justice. Interviewing Leaders of Law and Medicine.
Join Show Host and Guests Every 2nd Tuesday 11:00 am
Broadcasting LIVE from Pro Business Channel Studios in Atlanta.
Support our show sponsor at:

www.PrinceMay.com
678-253-4627
---
To nominate or submit a guest request visit:
www.LawandMedicineShow.com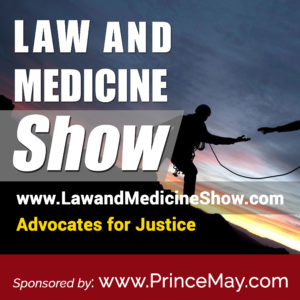 To view guest photos from this show, visit:
www.ProBusinessPictures.com 
Recent Photos From The Law And Medicine Show
Flickr Album Gallery Powered By:
Weblizar
---
Also published on Medium.