International Business Radio On Site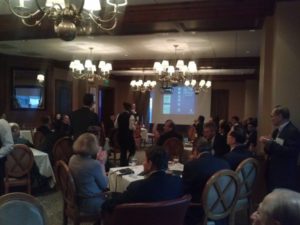 On Wednesday May 18th, the World Trade Center of Atlanta hosted a thoroughly engaging networking event. The Atlanta Connection events are held every month, and for the month of May that connection focused on China and Technology investment opportunities. The other hosts for the evening included TAG, the Technology Association of Georgia, and a few Chinese Delegates. Speakers for the evening include Henry Yi, vice-president of CITC Capital's Hong Kong center, a Georgia State University professor, and quite a few others.
Dialogue flowed evenly in both English and Chinese (What I can only assume was Mandarin). Information and business strategies traded hands. Information that included some hefty Atlanta Stats. 20,000 tech companies now have bases in Atlanta, and there are now more 100 business incubators to help that number grow. Atlanta is now 6th in the nation in terms of technology, and almost 77% of technology trade goes through Atlanta. These numbers carry quite a punch and it's getting Atlanta noticed. If I heard correctly, even some Silicon Valley companies are considering making Atlanta their next city of operations.  
For more information about this event check out: World Trade Center Atlanta or to find more events like this check out GlobalAtlanta.
Make it a Pro Business Day!
Ayesha Abid
Show Project Manager
International Business Radio – Pro Business Channel