---
On this very special episode of International Business Radio we have with us in studio Steve Barclay,  Director of the Hong Kong Economic Trade Office in New York. He was appointed to this position in August of 2014. His responsibilities include fostering trade development and growth between Hong Kong, and the Eastern states of America. Prior to this he was the Director of Hong Kong Economics and Trade office in Sydney. He started this career path when he signed up as member of the Royal Hong Kong police force.  He later joined the civil service, and from there he became increasingly knowledgeable about the workings of Hong Kong's business policies including intellectual property and consumer protection.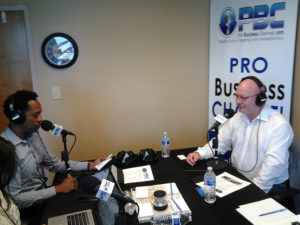 Hong Kong is a great center for American business. English is the language of the market place, and the tax rates are low. No sales tax, no tax on dividends, and other tax exemptions has led Hong Kong to claim itself as the world's freest economy. The Hong Kong Economic Trade Office works with American businesses that are keen to invest in Hong Kong or gain a foothold in the burgeoning Mainland Chinese market through the territory. Hong Kong may not have consulates or embassies, but they work closely and engage with other state and city governments. They promote trade in many avenues including think tanks, academia and other media enterprises to  keep them informed on the latest developments in the Hong Kong business market. To get in contact with the Hong Kong Trade Offices click here. 
To learn more about Hong Kong's Trade statistics visit:
http://www.hketony.gov.hk/ny/map/index.html
Interviewing international industry leaders live from the Pro Business Channel studios in Atlanta – International Business Radio
---
To view guest photos from this show, visit:
www.ProBusinessPictures.com
To nominate or submit a guest request visit:
www.InternationalBusinessRadio.com
Make it a Pro Business Day,
 Ayesha Abid

Show Project Manager

International Business Radio

Pro Business Channel
---
Also published on Medium.