Podcast: Play in new window | Download | Embed
Subscribe: Apple Podcasts | Android | Email | Google Play | Stitcher | TuneIn | RSS | More
Effective communication skills with Daryl Fletcher and Will Hall of HIPnation talks economical healthcare delivery on Georgia Business Radio
Daryl Fletcher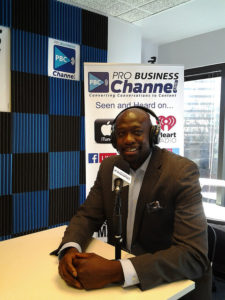 As a Speaker, Coach and Author Daryl Fletcher gives individuals and organizations life changing tools be effective in their personal and professional relationships. Daryl adds value to his clients by addressing issues of communication, productivity, and increasing profits.
Daryl places his expertise at the disposal of his audiences. He is an expert in the area of helping people maximize their potential and increasing the quality of their relationships. Daryl is a well sought after keynote speaker, workshop facilitator and coach. His sessions are filled with thought provoking content, humor and practical methods for success both personally and professionally.
If you want to:
– Increase customer, audience and relationship engagement
– Boost moral within your organization
– Increase connection in your professional and personal relationships
– Eliminate communication barriers
– Increase productivity
– Strengthen your team
– Get better sales results
Consider Daryl for:
– Sales Meetings
– Entrepreneur Workshops
– Relationship Conferences
– Relationship Building Retreats
Topics to Discuss:
Just because you're talking doesn't mean you're being heard
How to have effective communication in your personal relationships and business
Web Site / Social Media Links:
www.DarylFletcherSpeaks.com
www.linkedin.com/in/DarylFletcherSpeaks
---
Will Hall, CEO
HIPnation
I possess an extensive record of success in the management of corporate and regional operations in the healthcare field, and I have previously directed as many as 150 clinics across 10 states. I offer a consistent history of driving double-digit revenue and profit growth while expanding market penetration by opening new facilities, and I am skilled at building and leading top-performing executive teams. My experience encompasses overseeing all business operations, including compliance, business development, P&L, acquisitions and integrations, service development, customer relations, staffing, and budgeting.
Healthcare Impact Partners, LLC has designed a new and innovative outpatient healthcare delivery model called Primary Care Plus. We are building an economical healthcare delivery system providing employees of small to medium-sized self-insured companies access to high quality, personalized care at affordable cash-based rates. We are looking for business partners to help us best deliver this new model to self-insured employers interested in cost savings along with higher-quality healthcare for employees.
Topics to Discuss:
HIPnation story
Answers to rising healthcare costs
Web Site / Social Media Links:
www.HIPnation.com
https://www.facebook.com/HIPnationHealthcare
https://www.linkedin.com/in/willhall
---
Georgia Business Radio Interviewing industry and thought leaders with compelling stories. Relevant content on current business trends live from the Pro Business Channel studios in Atlanta. In addition to the live broadcast, GBR content is in distribution across multiple syndicated platforms with more than 500,000 downloads.

Show Hosts:

Michael Moore, RainMaker & Chief Storyteller

https://www.linkedin.com/in/sellbyphone
---
---
Recent Photos From Georgia Business Radio

Flickr Album Gallery Powered By:

Weblizar
---
Also published on Medium.