Podcast: Play in new window | Download | Embed
Subscribe: Apple Podcasts | Android | Email | Google Play | Stitcher | TuneIn | RSS | More
Driving Business Faster – Caffeine and Octane World's Largest Car Show
Company or Product Name:
High Octane Events
Name and Title of Person Interviewed:
Bruce Piefke – CEO
Guest BIO:

25 + years experience developing, producing and managing large events for Fortune 1000 companies and advertising agencies. Current focus is on High Octane Events LLC which is the producer and owner of several automotive related events including Caffeine & Octane and Caffeine & Exotics. Caffeine & Octane is the largest monthly and Caffeine & Exotics is the largest Exotic car show in the country. Over 10,000 car fans attend the events each month and over 2,000 automotive enthusiasts regularly display their cars. High Octane Productions LLC is a wholly owned subsidiary of High Octane Events which is the producer and owner of Caffeine & Octane – The TV Series premiering on the Velocity Channel in early 2017. The Caffeine & Octane online store sells and ships branded merchandise worldwide.
Topics/Questions to Discuss:
How did you start? How do you drive your business faster? What's next?
Web Site and/or Social Media Links:
http://www.caffeineandoctane.com
http://www.caffeineandexotics.com
https://www.facebook.com/CaffeineAndOctane
https://www.facebook.com/CandECarShow
https://www.instagram.com/caffeineandoctane/
https://www.instagram.com/caffeineexoticscarshow/
https://twitter.com/cocarshow
https://twitter.com/cecarshow
---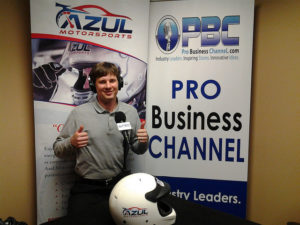 Driving Business Faster brought to by Azul Motorsports, where you become the passenger or driver in a real race car! Broadcasting LIVE from the Pro Business Channel studios in Atlanta. Tune in live and listen to recent episodes or possibly be a guest along with Professional Race Car Driver and Talk Show Host Chris Grigalunas!
Connect with the show sponsor visit:
AzulMotorsports.com
Listen to more broadcasts visit:
DrivingBusinessFaster.com
Submit a Show Guest Request visit:
http://www.meetme.so/DrivingBusinessFaster
View show photos visit:
www.ProBusinessPictures.com  
Recent Photos From Driving Business Faster
Flickr Album Gallery Powered By:
Weblizar
---
Also published on Medium.