Justin Herring, Founder
YEAH! Local
We help local businesses get more customers, more referrals, and more repeat business. We do this with a and upfront strategy session with the client. We then decide what will generate the most new clients who are pre-sold on your business. We use SEO, Content Marketing, Review Marketing, and Ads to do this. SEO is the backbone and most profitable for us.
Here a couple blog posts that help explain:
http://yeah-local.com/dont-get-duped-key-questions-ask-hiring-seo-agency/
http://yeah-local.com/how-long-does-it-take-for-seo-to-work/
http://yeah-local.com
https://www.facebook.com/YeahLocal
http://linkedin.com/in/justincherring
https://plus.google.com/+Yeah-local
Len Gibson
Peachtree Village International Film Festival
Film festival and community involvement
Business Authority Radio: Conversations with Industry Leaders
Hosted by Media Authorities Craig Williams and Neil Howe
To view guest photos from this show, visit:
www.ProBusinessPictures.com
To nominate or submit a guest request visit:
www.meetme.so/BusinessAuthorityRadio
To view previous shows visit:
www.BusinessAuthorityRadio.com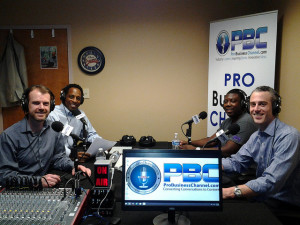 Business Authority Radio Episode 036
---
Also published on Medium.