International Business Radio On Site
Ambassador Charles Rivkin: TTP & Georgia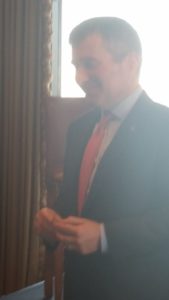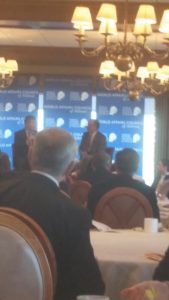 Ambassador Charles Rivkin paid a visit to the City Club of Buckhead last Friday to breakdown the proposed TTP trade agreement. He also talked about the benefits of the Trans-Pacific Partnership for Georgia businesses.
While the Obama administration is still working out the details and gathering signatures for the trade deal, some have made their opinions known. TTP, the Trans-Pacific Partnership, and TTIP, the Trans-Atlanta Trade and Investment Partnership have not been the most lauded trade agreements ever proposed, but the Ambassador did his part to clear up any confusion noting that the deal was far from the worst negotiation and certainly not a determent to U.S business.
He emphasized the impact this agreement will have on the future for America,"These deal are gonna create even more opportunities to expand our prosperity, and economic security for generations to come. We cannot afford to ignore the 95 percent of the world's markets that exist beyond our shores. We cannot afford to let other countries that do not share our values dictate labor and environmental standards throughout the world."
He added that allowing other countries to continue to out pace us in terms of international trade would be, "Ultimately damaging U.S. interests."
Concerned business owners were able to have their questions addressed by the Ambassador in a Q&A session that followed a short speech. Answering a concern on the timing and benefits of the deal he answered, "In my opinion in spite of the rhetoric you hear on the campaign trail, I think that the facts will speak for themselves. I believe, and President Obama believes that this deal will pass before the end of his administration." He also stated
"I don't think people understand the deal. You hear people on the campaign trail saying that its a poorly negotiated deal, and I'm just scratching my head. It's literally the highest standard trade deal ever negotiated in history. We have for example in labor: guaranteed minimum wage, guaranteed no force labor, guaranteed maximum hours, we have no child labor provisions put in the clause."
He also listed benefits to the environment and wildlife.
Another question was if he could see China joining the trade deal. Rivkin answered that at the moment China is not currently ready to join the deal. He also predicted that after seeing the positive benefits of the deal, he was sure that China would join. He was asked about the protection of intellectual property, and answered that the agreement would make it easier to protect intellectual property. He wrapped up the night concluding, that the U.S and Japanese partnerships were strong and this deal would push relations into, "Hyper-drive."
For more information about this event check out the World Affairs Council of Atlanta, or to find more events like this one click here. 
Make it a Pro Business Day!
Ayesha Abid – Show Project Manager
International Business Radio – Pro Business Channel